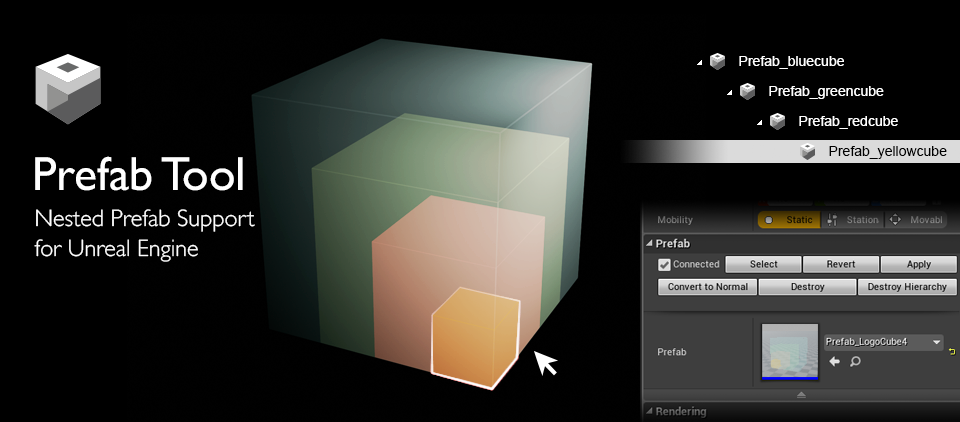 Prefab Tool for Unreal Engine
A downloadable unreal engine plugin for Windows
Prefab Tool brings nested prefab support to Unreal Engine.
It allows you to convert preconfigured actors in the level to prefab asset in the content browser, and then add the prefab to the same or other levels as many time as you like.
Prefab can be edited in the level editor directly, all changes to the prefab can then be propagated to all existing prefab instances.

You can disconnect a prefab instance to prevent it being automatically updated by prefab changes. Or you can choose to revert any changes to the prefab instance.
Prefab can be nested to support complex scene hierarchy. Changes to nested prefab can be reverted or propagated like normal prefabs.
Prefab is an editor tool to help level building, it can't be spawned in runtime. Once prefab instances been placed in the level, you can choose to convert them back to normal actors.
---
List of Features:
Create Prefab from collection of actors in the level
Nested Prefab to support complex scene hierarchy
Preview Prefab Thumbnail in Content Browser and Detail View
Drag and drop Prefab into the level to instantiate actors collection
Edit Prefab directly inside level editor
Apply changes of Prefab to all Prefab instances
Revert changes of Prefab instances
Convert Prefab instances to normal actors
Destroy Prefab Actor with option to destroy whole hierarchy
Swap Prefab Asset anytime
---
Technical Details:
Full c++ source code included, works with both Launcher and Github builds
Works with both c++ and blueprint only projects
Prefab Edtior Module is precompiled for Win64; Prefab Runtime Module is precompiled for Win32/Win64/Android
---
Known Limitation and Issues:
Prefab is base on actor hierarchy, actor types which can't be attached to other actor are not supported. (BSP Brush/Group Actor/Landscape)
---
Licensing
DRM-Free,
Full source code included
Requires one license per seat
---
Change Log:
1.0.9
Add option to enable apply changes from disconnected Prefab Actor
Add option to harvest components first instead of always create child actor when generating blueprint (Thanks code contribution from Elliot Yun @ RyseUp Studios)
Generated blueprint reference is now saved with Prefab Asset
Generate blueprint can now ignore actors of specific class or has specific actor tags
Now Support Generate Blueprint option default is on
Now Replace Actors with Created Prefab option default is on
Cleanup all LogTemp output
1.0.8
Fix Prefab's asset references not properly parsed in 4.18
Fix Migrate prefab to other project not working in 4.18
Now call PostEditMove on all children actors after parent Prefab Actor moved
1.0.7
Add Lock Selection feature, now spawned prefab actor will be locked/grouped by default
Add context menu and hotkey to toggle lock selection
Enable Prefab Component Visualizer by default; Now draw darker wireframe box to indicated lock status
Add Select children actors to context menu
Stamp prefab will now disconnecting all chidren prefab actor
Add Undo support for hide/lock prefab actor through context menu
Add 4.18 support; Drop 4.15 support
1.0.6
Add Stamp Prefab option to level editor context menu to spawn disconnected prefab actor
Add Replace Selected Actors with Prefab to context menu as a replacement of built-in "Replace Selected Actors with" function
Add Change Prefab option to context menu
Add "Replace Actors With Created Prefab" option in Prefab editor setting
Add Prefab Component Visualizer
Now generated blueprint will inherit mobility setting from prefab
Add workaround to persist painted vertex color of blueprint instances inside prefab
Fix ensure issue in generated blueprint
Fix bug when creating a new prefab out of a prefab and immediately placing it will cause the contents of the original prefab in the scene to disappear
Fix bug circular nested prefab might be created when applying prefab change
Fix bug attempting to create nested prefab when nested prefab support is off
Change Prefab editor module's LoadingPhase to PostEngineInit
Minor code refactoring
1.0.5
Add option to check if prefab content changed before updating all preab actors when opening map
1.0.4
Add experimental Blueprint generation support
Support non-unity build
1.0.3.1

Fix potential editor crash due to name clash when reverting prefab Actor in multi-levels map (thanks ColdIronPoz for the report and fix)
Fix apply prefab actor only works if world's current level is the same as prefab actor in multi-levels map
Drop 4.14 support
1.0.3
Add Visibility Widget to show/hide Prefab Actor with it's children actors in one click
Add Select Parent Prefab Actor context menu
Add Collapse and Select Parent Prefab Actor context menu
Add default hotkey binding for Select/Collapse/Show/Hide Prefab Actor
Fix Weak Object Reference in Prefab wrongly pointing to original source actor
Select Prefab Actors from Prefab Asset context menu now select actors even it's hidden
1.0.2
Add Prefab in Create Basic Asset category
Fixed bug blueprint archetype stored in prefab asset references table, preventing redirectors been fixup
Fixed bug prefab thumbnail preview scene holding up preview actor references unnecessary
1.0.1
Fixed bug that thumbnail origin offseted
Improved prefab asset references parsing
Added log output of un-supported actors
1.0

Initial Release
Purchase
In order to download this unreal engine plugin you must purchase it at or above the minimum price of $25.00 USD. You will get access to the following files:
PrefabTool_1.0.3_for_4.14.3.zip
27 MB
PrefabTool_1.0.3_for_4.15.3.zip
15 MB
PrefabTool_1.0.3_for_4.16.2.zip
19 MB
PrefabTool_1.0.3_for_4.17.0.zip
21 MB
PrefabTool_1.0.3.1_for_4.15.3.zip
12 MB
PrefabTool_1.0.3.1_for_4.16.3.zip
16 MB
PrefabTool_1.0.3.1_for_4.17.0.zip
19 MB
PrefabTool_1.0.4_for_4.15.3.zip
22 MB
PrefabTool_1.0.4_for_4.16.3.zip
26 MB
PrefabTool_1.0.4_for_4.17.0.zip
27 MB
PrefabTool_1.0.5_for_4.15.3.zip
22 MB
PrefabTool_1.0.5_for_4.16.3.zip
26 MB
PrefabTool_1.0.5_for_4.17.1.zip
27 MB
PrefabTool_1.0.6_for_4.15.3.zip
22 MB
PrefabTool_1.0.6_for_4.16.3.zip
26 MB
PrefabTool_1.0.6_for_4.17.2.zip
28 MB
PrefabTool_1.0.7_for_4.16.3.zip
26 MB
PrefabTool_1.0.7_for_4.17.2.zip
28 MB
PrefabTool_1.0.7_for_4.18.0.zip
28 MB
PrefabTool_1.0.8_for_4.16.3.zip
26 MB
PrefabTool_1.0.8_for_4.17.2.zip
28 MB
PrefabTool_1.0.8_for_4.18.2.zip
28 MB
PrefabTool_1.0.9-build2_for_4.16.3.zip
26 MB
PrefabTool_1.0.9-build2_for_4.17.2.zip
28 MB
PrefabTool_1.0.9-build2_for_4.18.3.zip
28 MB